Here's what happened over the last two weeks in Middle School!
Ferris Bueller once said, "Life moves pretty fast. If you don't stop and look around once in a while, you could miss it." Our days at Lyme School can move pretty quickly - there is great merit to taking a few moments to check in with ourselves and each other. This is what what we do at the start of each Stanton Time. It is a few moments well spent!
Our 5th graders spent several classes resuming their GOSTRENGTHS program from last March as they explored content in the GOTOTHENOW series all about MINDFULNESS! These students were curious, engaged, and enthusiastic about all things that help us stay in the PRESENT. We practiced mindfulness by checking in with our heart, mind, and body, grounding with our senses (ask them about 5,4,3,2,1 tool!), eating like an alien (mindful eating), and more! As our days might feel more exhausting to some, taking time to check in with ourselves, identify our thoughts and let them pass through us if they are not helpful ones, can be really helpful to our wellbeing. Again, we call this a mindfulness PRACTICE because we are always doing our best and our best may look different day to day and that is ok! There is truly no destination as we are never DONE with the process of trying to be in the present moment. Really proud of these students for welcoming these ideas with open minds and hearts!
Our 6th graders learned about and discussed DIGITAL DRAMA! We first identified what drama is - the creating or escalating conflict between two people or groups. We acted out some scenarios and tried to identify what ways we could DE-ESCALATE the drama of the digital dilemma. Students came up with some great ways to make the problem smaller including but not limited to: Speaking to the person face-to-face, removing yourself from the text group, talking to an adult if it is getting out of hand, being an upstander or an ally for someone who is being targeted, posting a positive comment, checking in with friends if something doesn't feel good about an online interaction (tone, confusion, intention, emotion, etc.). We also played an interactive game as a class called Digital Compass to help characters who are experiencing digital dilemmas make the best choice that tries to keep them happy and healthy. There are many outcomes to these scenarios depending on what decision you choose - I encouraged students to play in their free time and explore outcomes from their choices.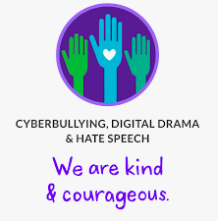 Our 7th graders spent some time thinking about their own digital media use and the guidelines that are currently set at home/school. They had a unique opportunity to imagine being a parent to a 7th grader and defining these guidelines for their imaginary child. Some students felt that their guidelines were more or less strict than their current ones set at home, while others felt they were pretty much the same. In order to start that work, we first listed how we would want our kids to feel or be as 7th graders - see below for their thoughtful answers. Such a fun time talking and hanging with these students again!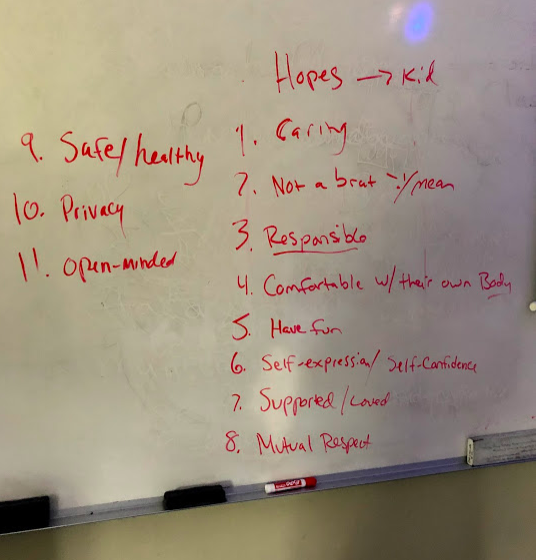 After having fun and games, 8th graders explored their own personal values and what is important to them. The hope is that when we truly know what is important to us, we will make decisions based on that. 8th graders completed a Personal Values Inventory and started to work on the Digital Personal Values Collage in googledraw where they got to learn about and practice using some new text and graphic applications. Revisiting our own personal values is something that might be helpful to anyone when they feel stressed with current events or unsure of what to do in a situation. Pausing and thinking about who/what is important to you may make that decision less reactive and more intentional. So great to be able to spend time with this class!
I had such a super two weeks with Lyme's elder scrolls! I will miss being with them this next stretch and look forward to hanging with my little peeps downstairs!
Big distanced hugs :-) !
Mrs. Stanton