The Humanities class just completed the novel To Kill A Mockingbird by Harper Lee. We use this book as a lens to begin to understand the Jim Crow era in our nation's history. The storyline of this novel provides ample opportunity for deep, insightful discussions about race, class, gender, and stereotypes of the 1930's era, as well as a chance to reflect on the concepts of continuity and change from that time to ours. Using the spiderweb discussion format we have been working on, the students provided quotes and questions from the text to engage their classmates in deeper reflection, clarification, and understanding of the novel.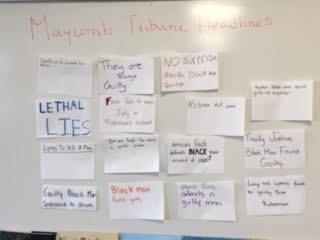 To Kill A Mockingbird is assigned reading to over 70% of all middle/high school students in the United States. As a class and then individually, students were asked to ponder whether this novel should still be taught. We looked at some of the criticisms of the novel and then students crafted an argumentative essay answering the question 'Should To Kill A Mockingbird be required reading in modern day school curriculums? Why or why not?'. Amazingly, the vast majority of students argued for book to remain in school curriculums.
Alongside our study of this time period in U.S. history, the Humanities students have also been working diligently on their Genius Hour projects. Genius Hour gives the students 20% of their total academic time a week to put towards a project of their choosing. Students had to formulate a project proposal, pitch it to a group of "sharks" in the style of the TV show Shark Tank, revise their proposals and then get started. They are busy researching, interviewing experts, creating infographics as well as designing their projects which seek to solve a modern day challenge. On the evening of January 29th, students will host an open house of their projects for the Lyme School community. Please join us!