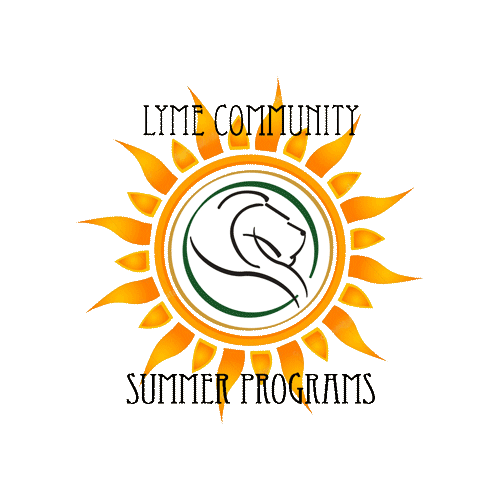 2018 Lyme Summer Camps
Jeff Valence
Thursday, April 19, 2018
For those thinking of summer vacation, here is a list of programs available in our Lyme Community. If you have a camp you would like mentioned please contact us with the information.

Spanish Camp with Señor Harkins- One Session
June 25th - 29th
$125 12-3
$200 All-day option
Open to Current 1st to Current 4th graders (rising 2nd - 5th graders)

Have fun with Spanish! We'll spend the week playing games, singing songs, creating stories, making movies, watching movies, running around, reading, writing, drawing, putting on plays, and much more! Morning option 8:30-11:30 $125 Afternoon option
Questions? Email: Señor Harkins at tharkins@lymeschool.org


Cooking Camp with Chef Larry - Four Sessions
Week of July 16th •Week of July 23rd • Week of July 30th •Week of Aug. 13th
$300/student, class limit of four

Cooking and Baking in the Lyme School Kitchen with Chef Larry. Mon-Fri. From 10am until 2pm. Includes all materials, food, recipes and lunch daily. Planned Curriculum: Please email me for a specific list of planned curriculum. Day 1: Baking and Kitchen Fundamentals, Weights and Measures, Safety, Sanitation & Nutrition. Cookies and Brownies Day 2: The "Muffin Method" Day 3: Breakfast Cookery Day 4: The "Biscuit Method" . Day 5: Summer-Time BBQ
Questions? Email: Chef Larry at lreed@ymeschool.org


Summer Fun Camp With Ms. Lyons and Mr. Chapin - Three Sessions (Open to Non-Lyme Communities)
July 2 - 6 (M,T, Th, F) 8:30 - 2:30
$160/ $200 per camper
Children entering grades 1-5

This camp offers four days full of old fashioned fun activities including potato sack races, egg toss competitions, kick the can, science and STEM projects, and more! July 23 - 27 8:30 - 2:30 $200 per camper Kids entering grades 1 - 9 Music Camp with Ms. Lyons and Mr. Chapin! A week packed full of games and creative play. Plenty of music to go around! August 13 - 17 8:30 - 2:30 $200 per camper Kids entering grades 5-9 Chill in the sun with friends! A more low key camp full of art projects, jewelry making, board games, reading, and more!
Questions? Email: mlyons@lymeschool.org


Summer Camp With Ms. Gautreau - One Session
(Open to Non-Lyme Communities)
August 6-10 8:30-2:30
$200 per camper
Children entering grades 1-5

This camp offers a week full of activities that include design and building challenges, outdoor games, inquiry science labs, and art reflection. A great way to see friends and have a few more summer adventures. This camp will have plenty of activity and learning. We plan to explore, discover, and investigate throughout the week.
Questions? Email: tgautreau@lymeschool.org


Art with a Twist with Ms. Angie - Two Sessions
(Open to Non-Lyme Communities)
June 25 - 29 • August 13 - 17
$125 per camper
June 25 - 29: Open to current kindergarten kids 9:00 - 12:00 and August 13 - 17: Open to children currently in grades 1 - 3.

Art with a Twist Camp is for children who love art, creativity, and curiosity. This camp fosters imagination and helps children discover their talents with gentle guidance and the introduction of a variety of art materials, teaching them to take pride in their accomplishments! Each day brings new projects that may include rainbow batiks, mosaics, shibori dying, and clay sculptures. Come explore, create, and get messy!
Questions? Email: abalch@lymeschool.org

---
Offsite Camps:

Theater Workshop at Loch Lyme Lodge - Two Sessions
June 25 - 29 • July 9 - 13
$200 per camper
To enroll visit www.LochLymeLodge.com or call Faith at (603) 667-3167


Camp Color Wheel at the Lyme Nursery School
June 18-22 • June 25-29 • July 2-6
Ages 3 to 6
Call or email for for information-
Questions? Email: director@lymenurseryschool.org or call 603-795-4567
Challenger Sports' British Soccer Camp
July 23-27th @ Post Pond Athletic Fields
All ages
Challenger Sports' British Soccer Camp is the most popular soccer camp in the country based upon one of the most innovative approaches to coaching youth soccer in the US and Canada. Our experienced International staff study the game at all levels and will help players improve their core techniques and become more confident on the ball. With programs for each age, the curriculums includes a variety of foot skills, technical drills, tactical practices, freestyle soccer, small-sided games and coached scrimmages. World Cup style games are held each day where campers compete for their adopted country and are encouraged to learn about different customs and cultures, and our core values of respect, responsibility, integrity, sportsmanship and leadership.
Link to register for mini camp, 1/2 day and full day options: https://challenger.configio.co...
The TetraBrazil Summer Camp
August 6-10 @ Post Pond Athletic Fields:
Incoming 5th grade and up
The TetraBrazil Camp combines traditional Brazilian technical practices with the flair, passion, and creativity of South American soccer. The TetraBrazil curriculum has been designed by an organization of professional soccer educators in Brazil to provide teams, coaches and players in North America with the same expert level of training received by the Professional Brazilian Clubs. Campers will warm up to samba music, learn Portuguese phrases and discover what it is like to grow up in a country where playing soccer is treated like a religion. This camp for the serious soccer player looking to gain extraordinary skills and is scheduled to be just before try-outs for JH, HS, Lightning to prepare your athlete.
Link to register for half or full day programs: https://challenger.configio.co...
Lyme Summer Pond Program 2018
Week 1: July 9 – July 13 Week 2: July 16 – July 20 Week 3: Aug 6 – Aug 10
Hours: 9:00 AM- 12:30 PM
Where: Chase Beach at Post Pond
Cost: $55 per week per child
* Families with three or more children enrolled, $40 per week per child.
* Please ask about scholarships, they are available on need be basis.
Who can join: Any child age 5 by the end of December 2018 through grade 5
*Campers need to be able to use the porta potty independently
*As needed, campers will change in and out of their bathing suit independently.
Activities available: Red Cross swimming lessons, sports, arts and crafts and more. Camp Registration forms can be found on the town website and mailed at any time. I appreciate early registration to prepare the necessary supplies for the program. Please submit forms no later than June 18, 2018.
Please contact Margaret Ramsden, Pond Program Coordinator at margaretelliotramsden@gmail.com with any questions.