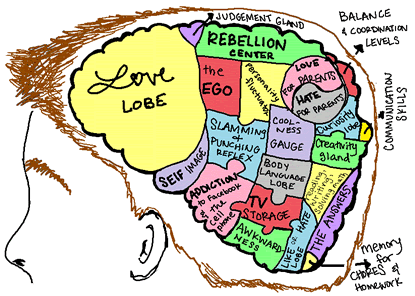 The Eighth Grade Learns about the Adolescent Brain
Lisa Damren
Monday, October 28, 2019
During the first quarter, the eighth graders learned about the adolescent brain in health class. They investigated the parts of the brain, such as the Frontal lobe, The Amygdala, the Prefrontal Cortex, and the Cerebellum.
During adolescence, the brain is under "massive reconstruction", pruning away grey matter to make way for the use of the brain in a healthy, productive way. With that reconstruction can come some impulsive decisions, hefty emotional roller coaster rides, and judgments that are not always the best.
Adolescence can be confusing enough and teens often need to rely on the adults around them to act as their prefrontal cortex when it comes to making good decisions. While it may take some time, the brain does reach full maturation around age 25.
Through the use of Noodletools, an online student research platform, students took notes from electronic sources and summarized their thinking about the new information. The brain unit ended with writing an informational essay about the brain. This was intended to allow students to learn about what happens to the brain as it works toward maturing, which is a complex, but very normal part of their development toward adulthood.