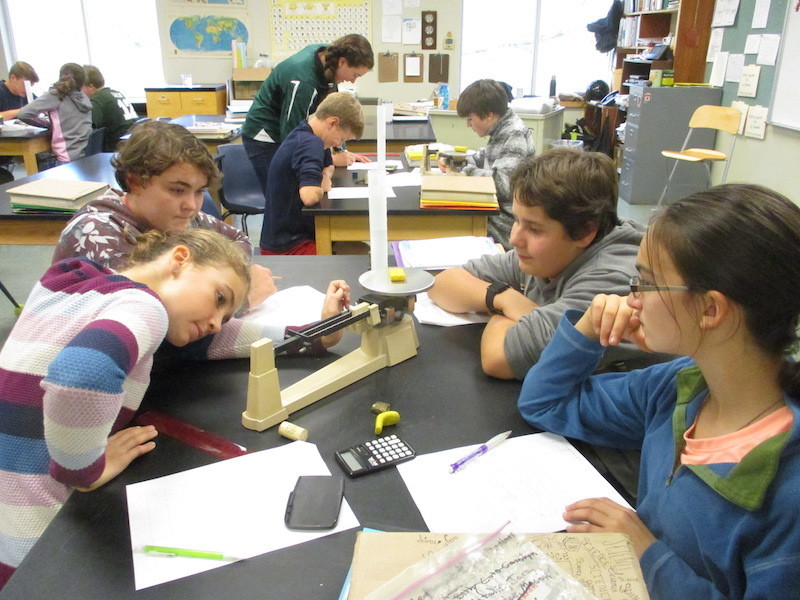 Eighth Grade Science News
Skip Pendleton
Tuesday, October 09, 2018
The eighth graders settled in quickly to the science routine during the first weeks of school. They were given the eighth grade science book called Glencoe Earth Science, yellow science folders, and little blue spelling books to use for notebooks. After relearning how to cover their science books the children reviewed the scientific process and learned how scientists work like detectives by gathering evidence to solve mysteries in the natural world. Ask them how drowned forests in the states of Washington and New Hampshire gave clues to a tsunami and glaciation.
The first lab the children undertook this year was an exploration of how changing the variables of pendulum mass, pendulum length, and angle of pendulum release affect the swing of a pendulum. Abbe Murphy graciously hosted a follow up field trip to the Lyme Congregational Church. There the boys and girls saw how the antique pendulum regulated clock in the tower of the church worked and rang the bell. We rang the bell, too! As a bonus the kids enjoyed playing Quiz Bowl on facts about Lyme and learned about the architectural history of the church.
Currently, the children are leaning about matter. We began at the atomic level. Isotopes and Ions were investigated and types of atomic bonds were discussed. The kids sharpened their skills of measuring mass, volume, temperature, length, and circumference. They constructed and diagrammed models of Helium and Lithium.
They then investigated buoyancy by trying to make aluminum foil boats that could hold as many pennies as possible. Soon the kids will use their measurement and math skills to ascertain the density of a variety of known objects. They will use the concept of density to determine the identity of four metals.
Eighth graders have science class on Tuesday, Thursday, and Friday. They can expect to have homework on Tuesday and Thursday nights. Please check in with your child about science assignments. If they need help, I am available during Wednesday office hours, from 7:45 to 8:00 every morning, at recess time, and after school.