EDIT MAIN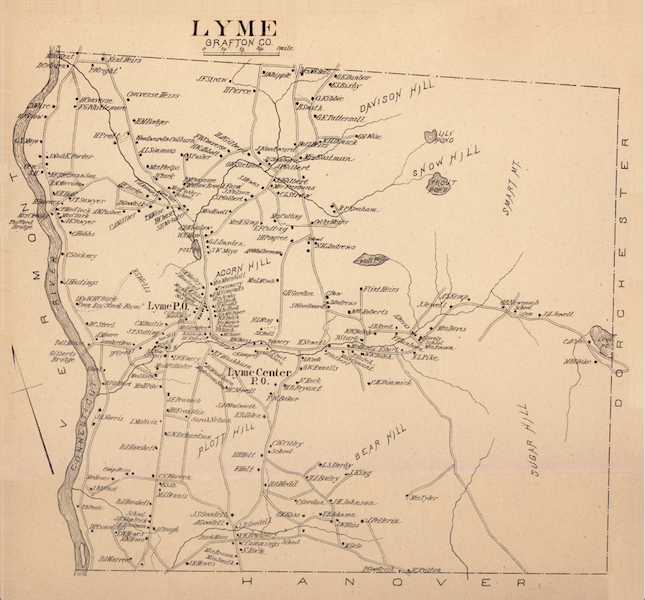 History of Public Schools in Lyme
Included in the original 1761 town charter was the requirement to set aside a share for the benefit of a school in Lyme. The first settlers arrived in 1764 and the Lyme Historians in their book Patterns and Pieces speculate that the first 15 families who are stated to have settled in 1768 probably were not yet able to afford a separate schoolhouse or schoolmaster.
However, we do know that the selectmen of Lyme established eight neighborhood school districts in 1794 in advance of the requirements of a newly passed state law requiring towns of certain size to establish a school house and hire a school master for its children.
The number of schools in operation at any one time fluctuated according to population, as well as the season or circumstance (war, disease outbreaks and practicalities of needing the 'big boys' to help with work on the farm had some neighborhood schools closed entirely for certain seasons).
This system remained in place until 1959 when the school districts were consolidated. You can see photos of many of these original one-room schoolhouses on display in the music room at the current Lyme School.
The Laura Smith Barnes School building was built in 1958. Construction of this building was made possible by the bequest of George Washington Barnes who died in 1955 and left $100,000 for a public building to be named in memory of his wife, Laura Smith Barnes, on the condition that no matter what the building was used for it be located on the "Old Hotel Lot", site of the Perkins-Warren Hotel which had burned in 1899. The school building is also used for Town Meetings and other community functions.
In 1967 a public kindergarten was added to the system.
One such schoolhouse — The Chesley Schoolhouse — located at 161 Baker Hill Road was in continuous operation from 1824 to 1959 and has been donated to the Lyme Historians